Listen to Havilah Tower's music on ReverbNation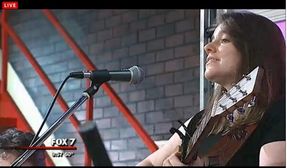 Havilah Tower performing at non-profits & schools
Giving back to the community, Havilah Tower and her band will perform at non-profit and school events in Austin and surrounding areas during 2014-2015 free of charge. The band offers all original, family friendly music that focuses on providing intelligent lyrics that is backed up with a cello, djembe drums, and an acoustic guitar. Ms. Tower, singer/songwriter, has a collection of songs that encourages positive thinking and building self-confidence. Chris Wright, cellist, brings new dynamics to the band by adding bass and unique vocals to the band's latest songs. Steven Perkins, drummer and djembe drummer, adds a rhythmic worldbeat sound to the band.
Set lists may be chosen for particular events at the non-profit or school's discretion.

Free Performance Qualifications
Events must meet the following qualifications for a free Havilah Tower performance:
1. School or non-profit event
2. Anticipated crowd should include a minimum of 50
3. Event location must be within 30 miles of Austin, Texas
To book Havilah Tower for a non-profit or school event, contact us at HavilahTower@gmail.com.
Previous events
Havilah Tower performs at Bell Springs Winery
Singer-songwriter on a journey of self-discovery. I write, create, sing original songs w/ Steve Perkins & Chris Wright.
https://linktr.ee/HavilahTower