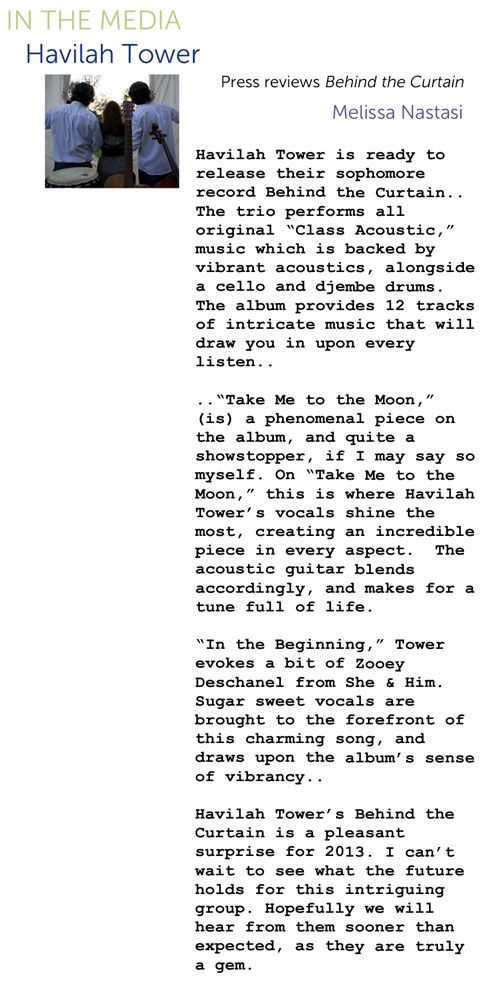 Full Review: 
Havilah Tower
Behind the Curtain
Review by Melissa Nastasi
5 Out of 5 Stars
Havilah Tower is ready to release their sophomore record Behind the Curtain, this December. The trio performs all original "Class Acoustic," music which is backed by vibrant acoustics, alongside a cello and djembe drums. The album provides 12 tracks of intricate music that will draw you in upon every listen.
Fronted by singer/songwriter Havilah Tower (vocalist/guitar), alongside Chris Wright (Composer, Cellist), and Stephen Perkins (Drummer), Behind the Curtain is about to take you on a whimsical musical journey. Founded in Austin, Texas, the band formed through a series of fateful encounters with the help of Ebay of all places. Havilah Tower has been performing as a trio since 2005, with their first release in 2007.
The first track on the record is the vibrant "The Truth Is," which is a stunning way to kickstart the collection. Tower's voice stands out with such boisterous, yet gentle tones, creating a unique sound that carries throughout the record. "I Luv 2 B Z Way I Am," is up next, which keeps in the tone of the album so far. The cello provides to be especially prominent in this song, adding a gracious hint of strings. "Dangerous," proves to be a standout song from the record from the very beginning. Tower's gentle vocals are laced with haunting strings and soft drums that will hypnotize your ears.
"Out to Sea," is a vivid piece that echoes throughout, and a personal favorite on Behind the Curtain. The vocals, light acoustic guitars, drums and strings intertwine perfectly to create this dreamy track. You will want to put this song on repeat, that's for sure. The title track, Behind the Curtain is up next, providing a lively hint of spunk into the record, giving it a jump in energy. "The Promise," proves to be a graceful track, surrounded by acoustic elements that fill the record like a dream. Tower's vocals are smooth with a tinge of pop sensibility, without overkill.
Next is "Take Me to the Moon," a phenomenal piece on the album, and quite a showstopper, if I may say so myself. On "Take Me to the Moon," this is where Havilah Tower's vocals shine the most, creating an incredible piece in every aspect.  The acoustic guitar blends accordingly, and makes for a tune full of life.
"In the Beginning," Tower evokes a bit of Zooey Deschanel from She & Him. Sugar sweet vocals are brought to the forefront of this charming song, and draws upon the album's sense of vibrancy. Followed by the vivacious "Stones," which brings Havilah's vocals into the spotlight even more so, with flowing harmonies to boot. "Love Will Conquer You," is both blissful and gorgeous as it evokes such emotion, which may lead you to shed a tear or two. "I'm Letting Go," and "Where Rainbow Meets Road," close out the record as perfect as it began, with lively elements from each instrument, creating a near masterpiece.
Havilah Tower's Behind the Curtain is a pleasant surprise for 2013. I can't wait to see what the future holds for this intriguing group. Hopefully we will hear from them sooner than expected, as they are truly a gem.